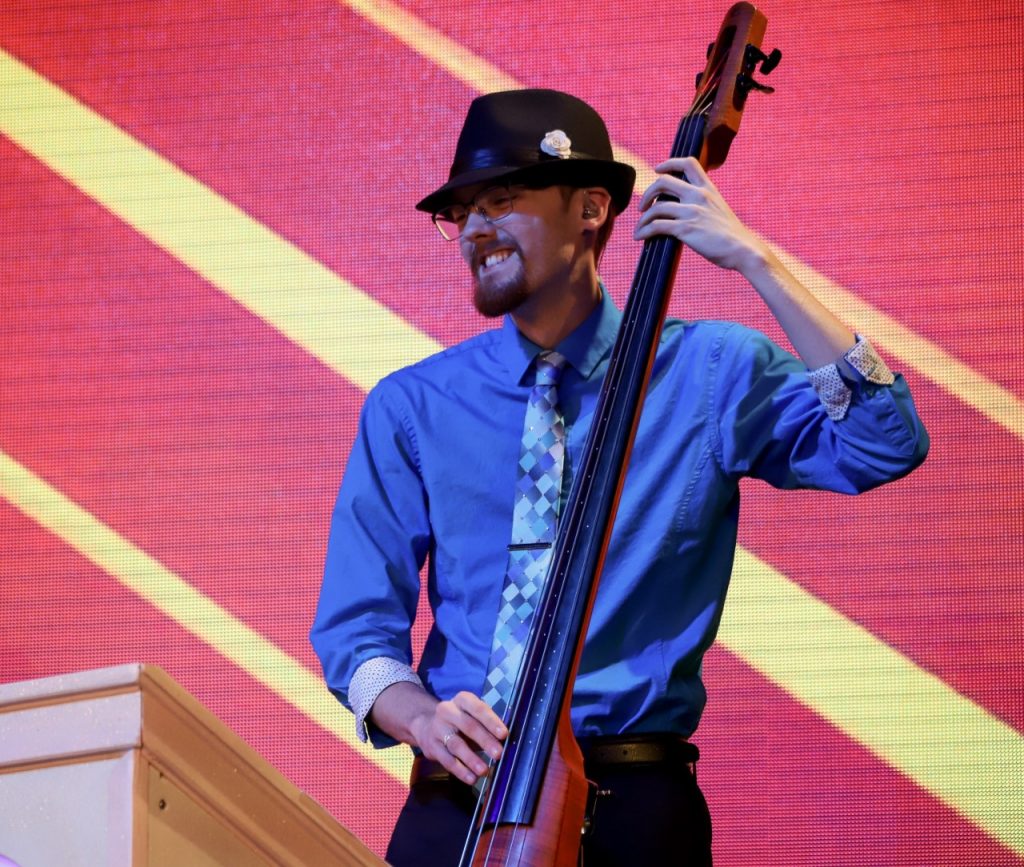 Sam is an electric and upright bassist from Oklahoma City, Oklahoma. He went to school at Trevecca Nazarene University in Nashville, Tennessee where he graduated with honors double majoring in Commercial Bass Performance and Theory and Composition. While he was there, Sam had the opportunity to perform in several Broadway musicals including Big Fish, Children of Eden, The Little Mermaid, The Secret Garden, and Rocky Horror Show.
Post-graduation Sam went to Sandusky Ohio for the summer to perform in the award-winning Trail Dust Trio: a cowboy band bringing back the country classics. When winter chills started nipping in the air, he was blessed with the opportunity to play in Charlotte North Carolina at Carowinds in their original musical Holidays in Harmony Hall, which was about a 50s radio station's Christmas Special.
He stayed in Charlotte for another year performing in Carowinds summer show Spark City Swing Machine, Bone Brigade in the fall, and another season of Holidays in Harmony Hall in the winter. Spark City Swing Machine, a Postmodern Jukebox type show blending new songs with old genres, has probably been the highlight of his career so far because it was an instant and consistent crowd favorite. Sam has also recorded on various projects, the most recent of which being The Dirt Road Degenerates singles Talkin Country, and Rock and Roll Degenerate.
In 2020 Sam moved back to Oklahoma because while contract work was exhilarating and incredibly fun, it could also be inconsistent in availability and require constant relocation. He still plays at musicals and operas when given the opportunity, and plays with a variety of bands around the Oklahoma City area. His most active project at the moment is Quest, an R&B/Funk cover band guaranteed to shake away the blues of the day with grooves that cannot be ignored!
Since his arrival back he has also loved teaching bass lessons at Red Dirt Academy, and offers both electric and upright bass lessons to everyone from the complete beginner to the seasoned professional. He is well versed in all genres of music from Country, medium to hard rock, Jazz, orchestral, Motown, Latin, R&B, Funk, and everything in between. In his lessons you will learn to read music (an absolute must for any musician), read chord charts, make up your own basslines on the fly, and how to connect with the drummer. Every lesson is customized to the student, and is based on their needs, goals, and learning style.
Contact Red Dirt Academy today and schedule your free trial lesson with Sam! From the complete beginner to the seasoned professional, Sam will help you bring your bass skills to the next level.